The winery Chiodi Roberta was born fifteen years ago, following the desire of a married couple to create a special place not far away from their fast-paced life in the nearby city of Padova.
This adventure started with the project of patiently renewing an abandoned house, in respect of the natural environment where the house was originally built. The mansion was built sourcing materials from the nearby territory and paying attention to maintaining the traditional characteristics of the houses of this area. A marvellous garden, tons of flowers and a big vegetable garden were included to enrich the outside area.
The owners immediately understood the main feature of the area, which is a constant, refreshing breeze that accompanies every season. This breeze is what inspired them to call the winery Col del Vento (Windy Hill), and with the name, this great adventure has begun.
During the following years, and after careful studies on the territory, vineyards were planted on the southern lands. The vineyards were planted according to the desire of employing the latest technologies to harvest the grapes, treat the vines and prune the branches and the leaves. The outcome is a vineyard kissed by the sun, harvested with care, love, and dedication.
The owners believe that great care for the vines results in extremely high-quality grapes and therefore they aim at pursuing excellence in the production process, giving birth to a unique and often countertrend oenological project. The mission of winery Col del Vento is to operate in the territory, respecting it fully, to obtain from the soil all the goods that the land wants to offer spontaneously.

6,5 hectares of vineyards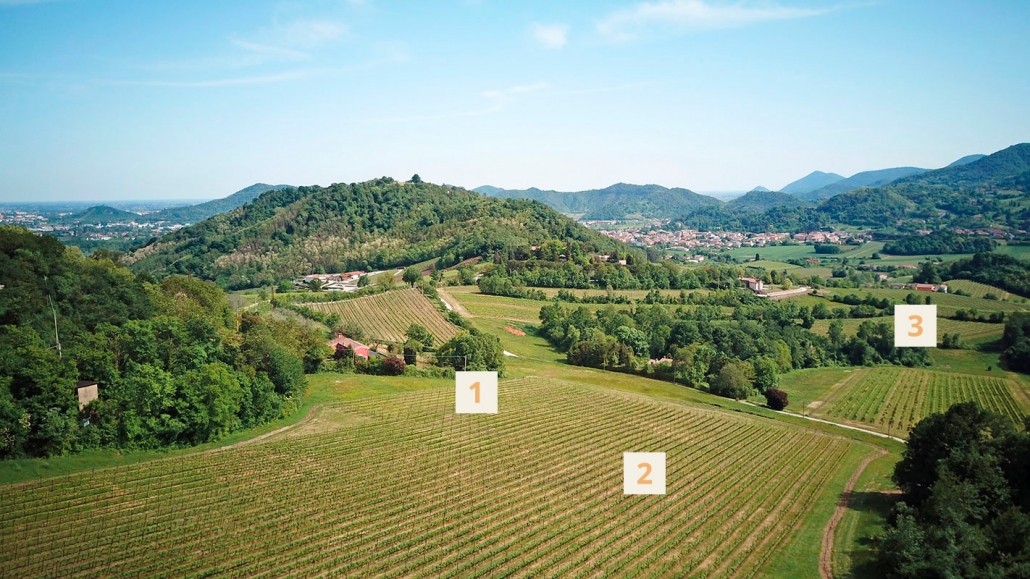 PINOT NERO (1,3 hectares)
CHARDONNAY (1,5 hectares)
GLERA – PROSECCO (3,7 hectares)
Located in Torreglia (PD), only 20 km away from Padova, the winery Col del Vento is part of the Natural Reserve of the Euganean Hills. The hills have a volcanic origin and the tradition of winemaking goes back to the Roman age.